Please sign in so that we can notify you about a reply
Features
Size
W124mm/ D95mm/ H150mm/ 330cc/
Material Number
material number1details
Material Icon
Glaze or Slip Drips
The glaze or slip may look like dripping. There is unevenness of a glaze or slip when they are applied to ware by hand. There also appear glaze drips or slip drips, which are caused by the glaze or slip flows during firing.
Crazing (Chaps)
Crazing (having chaps) may appear clearly on the glazed part. The "direct" crazing means having chaps originally. The "aging" crazing means having chaps over time as you use the tableware item. There is a difference between the shrinkage rate of the glaze and that of the clay, so crazing occurs. Note that those cracks do not come from the damage of tableware items. They might appear just before use, but it is no problem in terms of use. They appear on the surface of pottery (earthenware) and semi-porcelain.
Light Pink Marks
Light pink marks may appear on the surface of tableware items. They appear when a component of the base clay becomes oxidized and then develops a color while fired. Interestingly, each tableware item has the "one of a kind" pattern of light pink marks because they appear depending on a variety of mixed conditions such as components of the base clay, glazes and firing settings, etc. You can enjoy the unique distinctiveness that adds to your own tableware item.
Microwave Safe
A microwave oven heats or cooks food very quickly using short electromagnetic waves, namely, microwaves. In most cases, the microwaves heat the water content of the food. However, in some cases, the microwaves concentrate on the carbonized (burnt) parts of the food, causing the temperature to rise higher than the other parts. For example, the microwaves concentrated on the carbonized (burnt) parts of stir-fried vegetables can create a large temperature difference in /on the tableware item, which may cause breakage. In addition to water content, oil content is also heated. The oil has a higher boiling point than the water, so it heats up at a higher temperature, creating a very large temperature difference between the parts that contain oil and the parts that do not, which can cause breakage.
・Never soak hot tableware in water or place it on the cold kitchen counter. Avoid rapidly heating frozen foods or putting [the cold tableware just taken out of the refrigerator] in the microwave. A rapid change in temperature will lead to "crazing" (chaps) or breakage.
※The products with gold or silver paintings, or applied with particular glazes are not microwave safe. We put a "Do Not Microwave" sticker on those items, so please confirm it.
※Accessories etc., made of other materials are excluded from microwave safe items.
Dishwasher Safe
As for the products without the "Not Dishwasher Safe" stickers, please make sure to use them keeping the below matters in mind.
※If tableware items collide each other in the dishwasher, they will get broken.
※Most ceramic items absorb water. Even if the surface looks dry, there may still be some water in the tableware, which may cause your tableware to get moldy or smelly. So, please take it out of the dishwasher immediately after use, and dry thoroughly in a place where it can be exposed to the outside air.
丸いシルエットが特徴的なこちらの器。
「なつめ」というシリーズの土瓶と湯呑みです。
名前の通り、なつめの実をイメージして作られました。
確かに、手で包み込みたくなるようなこのシルエットは、
木の実のようなかわいらしさのある雰囲気。
シルエットからかわいらしさを感じる理由、それはこんなところにも秘密があります。
ずばり、土瓶の蓋です。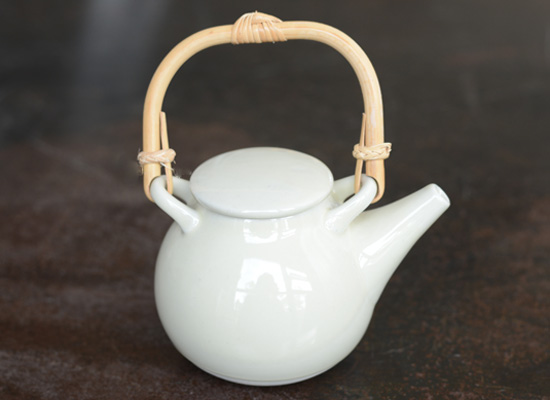 見てみるとなんだか物足りない気がしませんか?
そうです、持ち手と空気穴がないんです。
「なくて大丈夫なの?」と思われるかもしれませんが、安心してください。
よく見ると、蓋のサイズが穴より少し大きめで、縁が少しはみ出るようなデザイン。
そのため、蓋の縁をしっかり掴むことができます。
空気穴も、しっかり見えないところについているんです。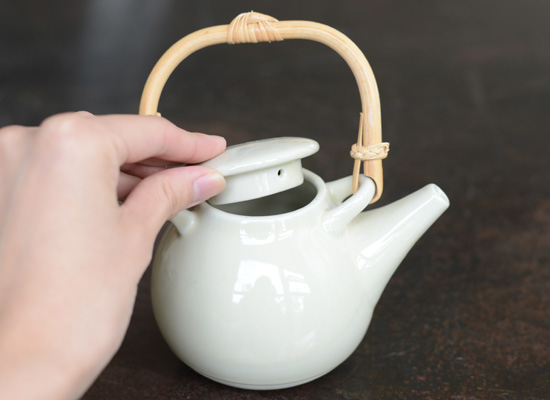 蓋の内側につけることで、見た目がよりスッキリと、つるんとした印象になり、
丸いシルエットが強調されているんですね。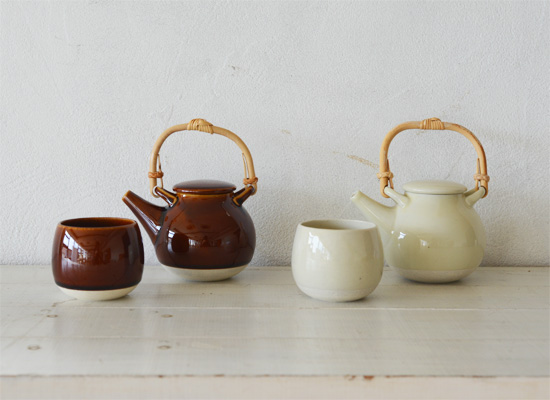 ちなみに、色展開は2色で、アメ色と白色があります。
土瓶も湯呑みも下の方に釉薬の塗り分け線が見えているのが、ツートンカラーの様でそこもまたかわいらしい。
なつめの魅力は他にもこんなところに、、、
内側に陶製の茶漉しがついています。こんなところまで陶器にしているのは驚きです。
洗いものが一つ減るのも嬉しいですよね。
そんななつめは和菓子にぴったり合います。
それなのに、和食器のような古さや堅さを感じさせず、親しみやすい。
シンプルな見た目は、どんな器との相性もいいですよ。
あたたかい飲み物が恋しくなるこの季節、なつめと一緒に冬の寒さを乗り越えませんか?
この商品が気になった方はこちら▶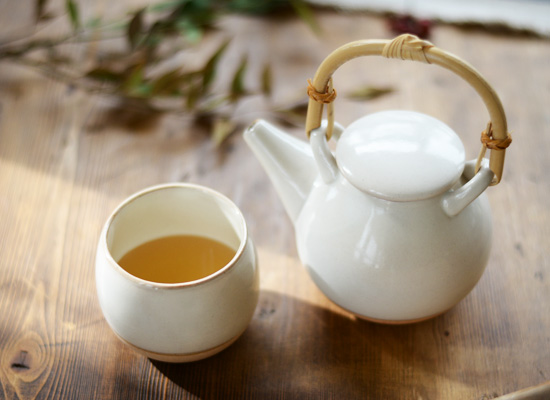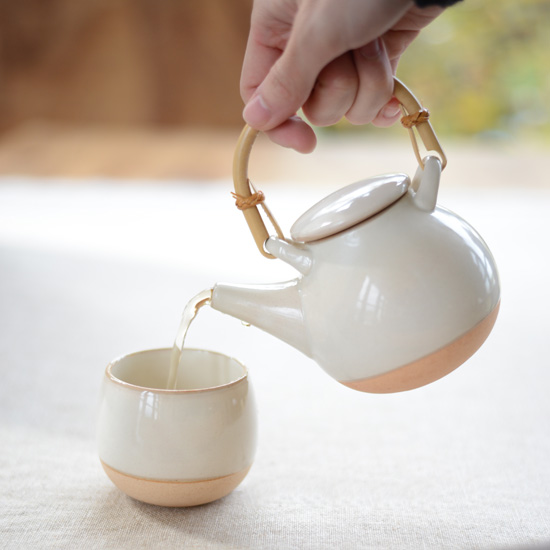 丸いシルエットが特徴的なこちらの器。
「なつめ」というシリーズの土瓶と湯呑みです。
名前の通り、なつめの実をイメージして作られました。
確かに、手で包み込みたくなるようなこのシルエットは、
木の実のようなかわいらしさのある雰囲気。
シルエットからかわいらしさを感じる理由、それはこんなところにも秘密があります。
ずばり、土瓶の蓋です。
見てみるとなんだか物足りない気がしませんか?
そうです、持ち手と空気穴がないんです。
「なくて大丈夫なの?」と思われるかもしれませんが、安心してください。
よく見ると、蓋のサイズが穴より少し大きめで、縁が少しはみ出るようなデザイン。
そのため、蓋の縁をしっかり掴むことができます。
空気穴も、しっかり見えないところについているんです。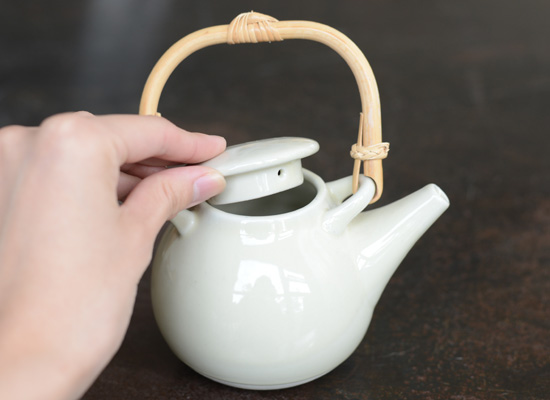 蓋の内側につけることで、見た目がよりスッキリと、つるんとした印象になり、
丸いシルエットが強調されているんですね。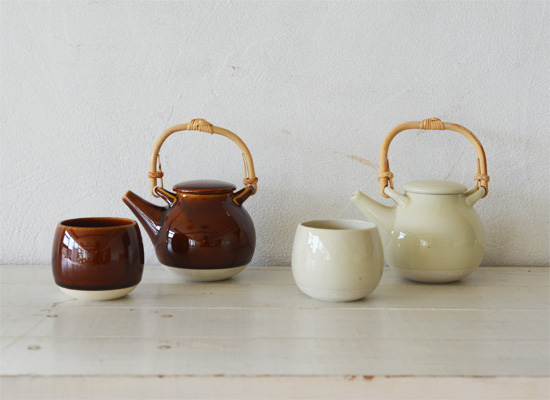 ちなみに、色展開は2色で、アメ色と白色があります。
土瓶も湯呑みも下の方に釉薬の塗り分け線が見えているのが、ツートンカラーの様でそこもまたかわいらしい。
なつめの魅力は他にもこんなところに、、、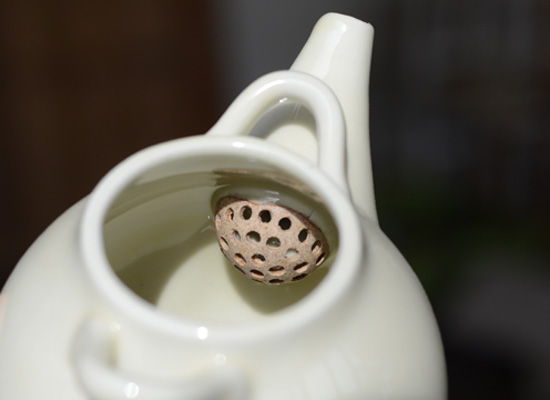 内側に陶製の茶漉しがついています。こんなところまで陶器にしているのは驚きです。
洗いものが一つ減るのも嬉しいですよね。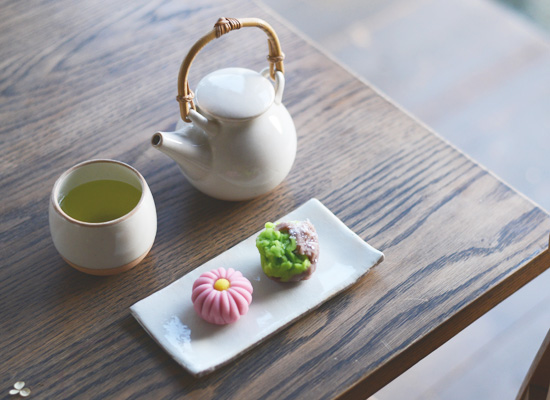 そんななつめは和菓子にぴったり合います。
それなのに、和食器のような古さや堅さを感じさせず、親しみやすい。
シンプルな見た目は、どんな器との相性もいいですよ。
あたたかい飲み物が恋しくなるこの季節、なつめと一緒に冬の寒さを乗り越えませんか?
この商品が気になった方はこちら▶