Please sign in so that we can notify you about a reply
Features
Size
W55mm/ D44mm/ H72mm/ 60cc/
Material Number
material number7details
Material Icon
Microwave Safe
A microwave oven heats or cooks food very quickly using short electromagnetic waves, namely, microwaves. In most cases, the microwaves heat the water content of the food. However, in some cases, the microwaves concentrate on the carbonized (burnt) parts of the food, causing the temperature to rise higher than the other parts. For example, the microwaves concentrated on the carbonized (burnt) parts of stir-fried vegetables can create a large temperature difference in /on the tableware item, which may cause breakage. In addition to water content, oil content is also heated. The oil has a higher boiling point than the water, so it heats up at a higher temperature, creating a very large temperature difference between the parts that contain oil and the parts that do not, which can cause breakage.
・Never soak hot tableware in water or place it on the cold kitchen counter. Avoid rapidly heating frozen foods or putting [the cold tableware just taken out of the refrigerator] in the microwave. A rapid change in temperature will lead to "crazing" (chaps) or breakage.
※The products with gold or silver paintings, or applied with particular glazes are not microwave safe. We put a "Do Not Microwave" sticker on those items, so please confirm it.
※Accessories etc., made of other materials are excluded from microwave safe items.
マルミツに入社してから、食器がもっと好きになりどんどん食器を買ってしまいます。
一人暮らしには十分すぎるプレートや小鉢などが揃ってきました。
そんな私が今新たに購入を考えているのが、キッチンツール系!
そろそろ、ツールなどにも手をだしてもっとキッチンを充実させたいなぁと思っています。
そして、目をつけている商品が「フォンド」というシリーズ。
なぜ私がフォンドに惹かれているのか、今回は語っていきたいと思います!
【シリーズで揃えたくなるデザイン】
フォンドは白磁に小さなロゴが入った、とてもシンプルなデザイン。
だからこそ、揃えたくなるんです。
家のキッチンを思い出してみると、いろんな調味料や小物があって
統一性がなくそこだけなんだかガチャガチャしてるんです。
そんな不満を少し感じ出した時に、フォンドを見つけた私は
これなら白の爽やかで統一されたキッチンが作れるはず!と思いました。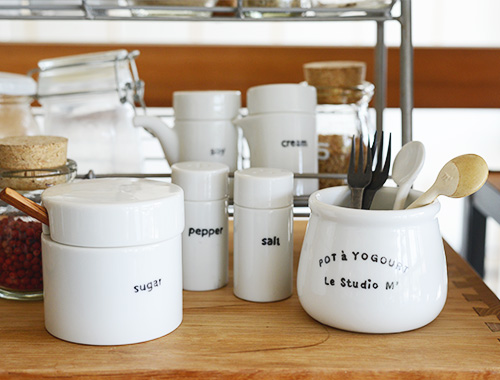 キッチンが綺麗にまとまると、料理をする時間ももっと楽しくなるのでいいですよね。
そして、やっぱりフォルムも可愛らしいデザインなので、キッチンツールだけど
インテリアのディスプレイのような役割も果たしてくれるとても優秀なアイテムなんです!
【素朴でかわいらしいロゴ】
アイテムそれぞれ違ったロゴが入っています。
そして、1つ1つかすれ具合が違ったり、にじんでいたりと
表情が微妙に違うのが分かりますか?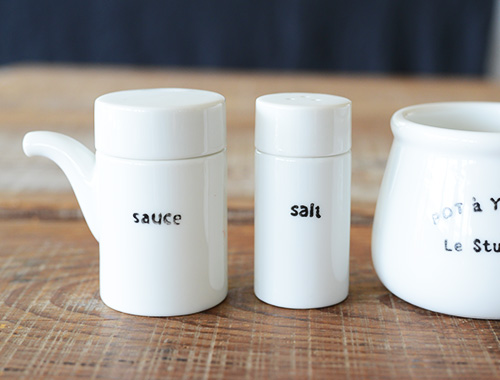 これは判子を職人さんが1つ1つ手で押しているんです。
だから力の加減などによって、少しの個性が生まれます。
カチッとした文字が入っているより、このちょっとゆるいロゴだからこそ味わいが出ます。
【職人さんの高い技術】
蓋付きのアイテムで、くるくると開け閉めする仕様になっています。
実はこれ、職人さんの高い技術のもと作られていて、
このネジになってる部分が少しでも歪んだり、ズレてしまうと蓋がスムーズに閉まらないんです。
いつも綺麗に作っていただいて、職人さんの長年の技だなぁといつも感じています。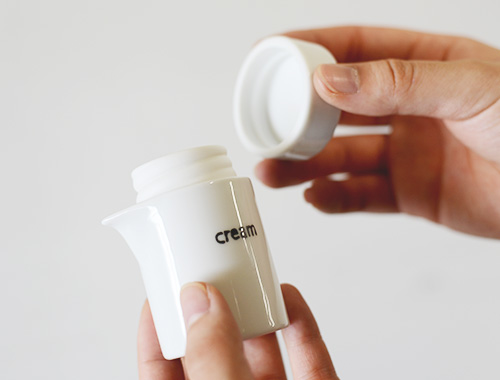 ネジタイプのカスターもちょっと珍しく、面白いですよね。
【ツールだけじゃない、食器としても!】
キッチンツールとしての魅力をお話してきましたが、
料理を盛り付ける器としてもぴったりなアイテムがあります。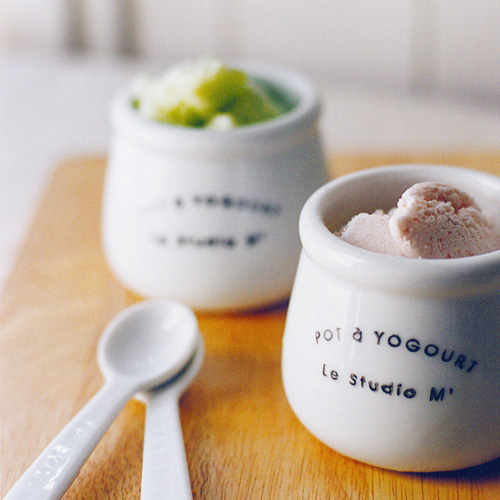 フォンド ポ(M)は小鉢やカップとして使いやすいサイズ感で、
アイスカップ、レンジで作れるケーキやプリンの型として使うのもオススメです。
ツールの時とはまた違った雰囲気で可愛らしいですよね。
キッチンをもっと豊かにしたい方、細かいところまで拘りたい方
ぜひフォンドのラインナップをチェックしてみてくださいね!