Please sign in so that we can notify you about a reply
Features
Size
W186mm/ D111mm/ H26mm/
Material Number
material number1details
Material Icon
Color Shade Variations
Each piece has individual color shade variations. Affected by glazes and natural firing conditions such as changes in temperature, humidity and other climate elements and also how to receive the fire in the kiln chamber, each piece has own expression. It is really difficult to make the completed ware exactly same in color by firing and glazing even when the same materials are used. 100 pieces show 100 kinds of expressions, as it were.
Color Irregularities
There are color irregularities of applying a glaze or slip, which are different from part to part in a piece of ware. For example, some parts are glazed thinly or thickly depending on the shape of the ware. That leads to part-to-part subtle differences in appearance of the clay in a piece of ware.
Glaze or Slip Drips
The glaze or slip may look like dripping. There is unevenness of a glaze or slip when they are applied to ware by hand. There also appear glaze drips or slip drips, which are caused by the glaze or slip flows during firing.
Pinholes
Pinholes may be seen clearly on the surface. Pottery (earthenware) is mainly made from earth, and green ware contains a lot of air while biscuit firing. While glazed firing, this air inside the biscuit ware becomes air bubbles, which remain and look like small holes on the surface of the glazed part. Those small holes are called pinholes.
Crazing (Chaps)
Crazing (having chaps) may appear clearly on the glazed part. The "direct" crazing means having chaps originally. The "aging" crazing means having chaps over time as you use the tableware item. There is a difference between the shrinkage rate of the glaze and that of the clay, so crazing occurs. Note that those cracks do not come from the damage of tableware items. They might appear just before use, but it is no problem in terms of use. They appear on the surface of pottery (earthenware) and semi-porcelain.
Iron in Powder
Iron in powder may be seen clearly on the surface. Pottery (earthenware) is made from earth, which contains iron. After firing green ware, iron appears on the surface in the form of black dots. Red or black earthen clay contains much more iron, and as a result, not a little iron in powder may appear on the surface of tableware items made from this type of clay.
Material
POTTERY /
made in  JAPAN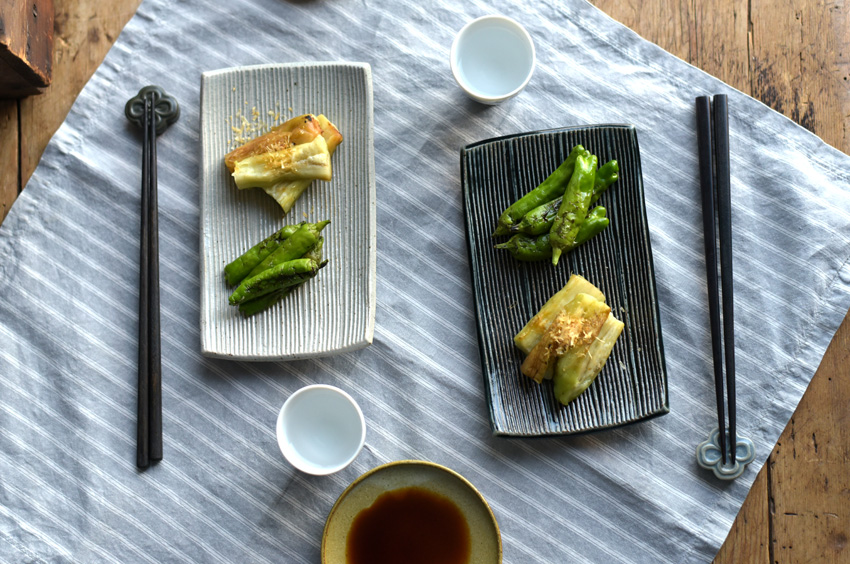 漢字で「膳」と書いて「かしわで」と読みます。
日常では一膳、二膳(いちぜんにぜん)と読んでいますが、
太古の昔、かしわの葉をお皿の代わりに使ったことが由来だそうです。
料理を乗せる台や食事のことで素朴でシンプルな料理や器を思わせます。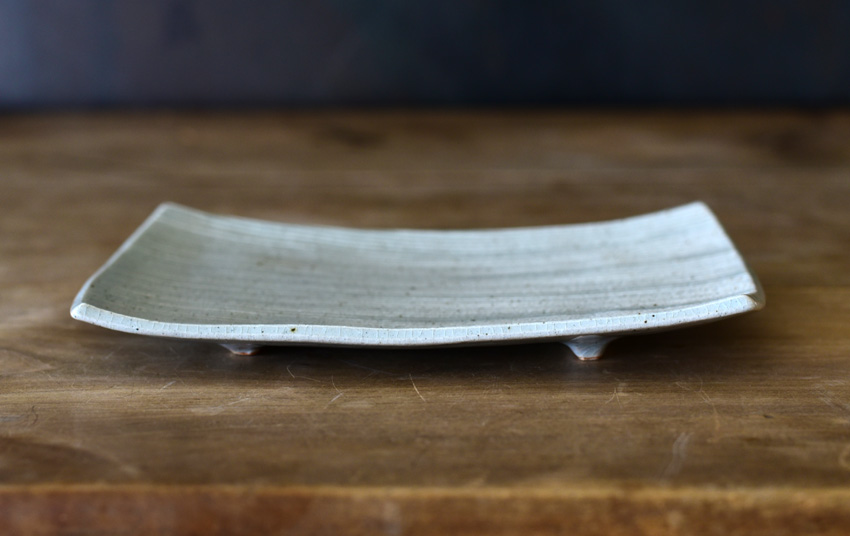 形状はたたら成形で作った皿に4つ脚をつけ、自然な揺らぎのある角皿をつくりました。
その形状を原型にして石膏に写し取り生産用の型を作ります。
盛面には櫛目を施し、へこんだ部分の釉のたまりや凸部の焦げ感、ザクザクとした手触りも面白さの一つです。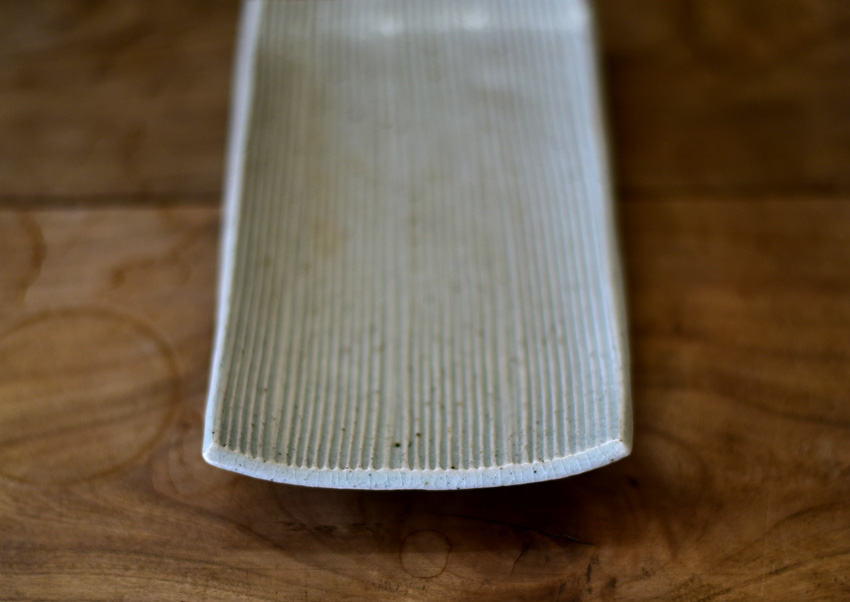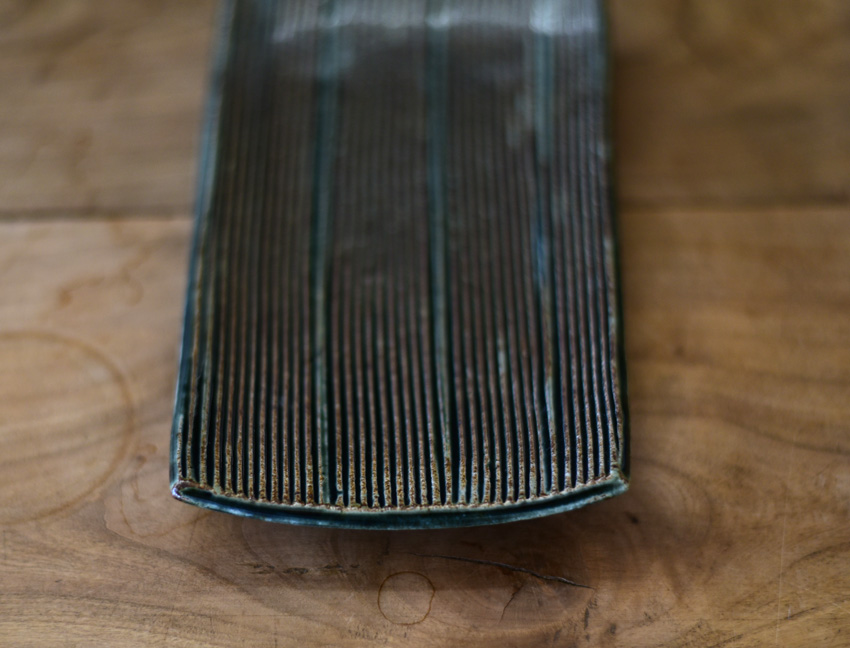 素材は手作り感のある素朴さをより活かせるように黄味がかった土物を選びました。
土の粒子が大小様々にあり鉄粉が多く入っているのも特徴です。
手作り感のある形と黄味がかった土がほっとするような温もりのある器になりました。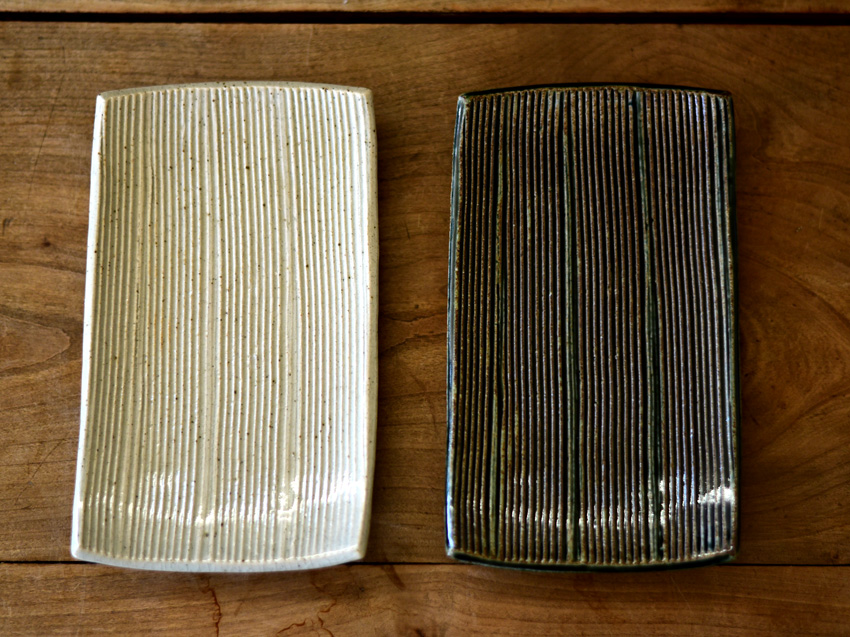 色は青磁と濃藍の2色展開。
どちらもガラス質で透明度のある釉薬を使っています。
そうすることでより土の表情が表面に透けて素朴さや荒々しさのある豊かな質感に。

濃藍は特に土に含まれる鉄分とも反応して焦げ感ができ、より力強さのある表情をしています。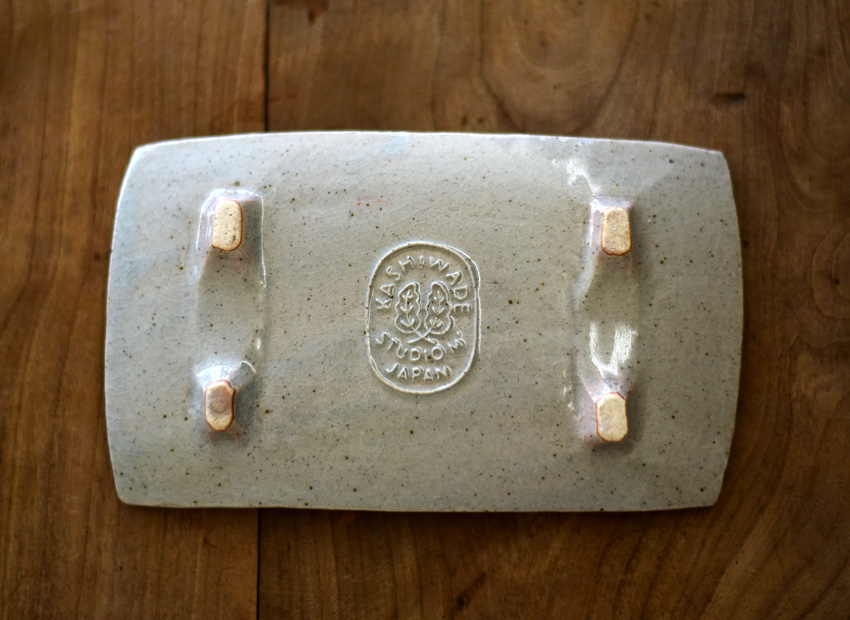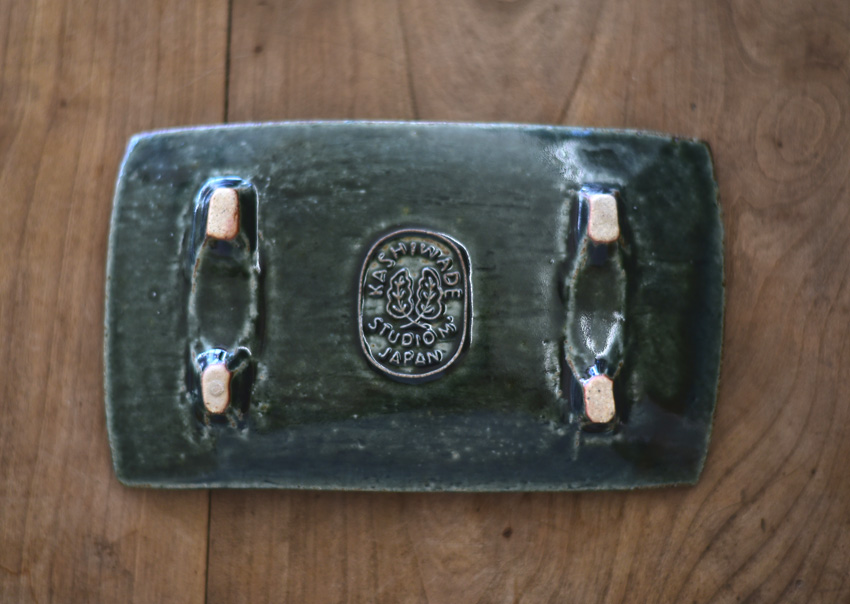 裏側の中央にはかしわの葉をモチーフにしたロゴを配しています。
葉っぱをお皿の変わりにして食事をしていた頃に少し思いを馳せてみてはいかがでしょうか。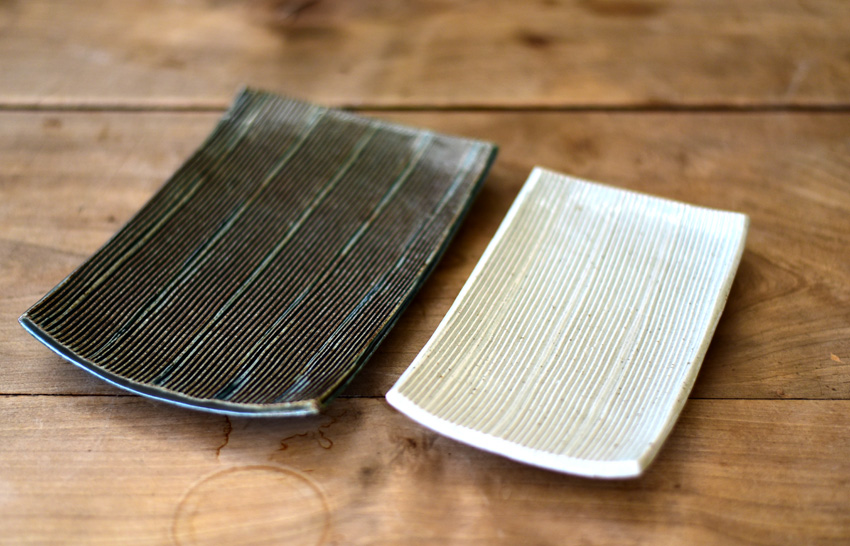 6寸は鰆やブリなど小さめの魚の切り身、副菜の2品盛りなど。
7寸は鯵の開きや、切り身、揚げ物や生姜焼きなどの主菜用の器として重宝します。
板皿状ではありますが少しフチ周りが高くなっており、多少の油分や汁気は漏れ落ちないようになっています。
食材の瑞々しさや美しい色味が素朴な質感と対峙しより美味しそうに料理をみせてくれます。
他にもチーズやナッツ、ハムなどの洋風のおつまみを盛り付けても自然に馴染むような面白さも併せ持ちます。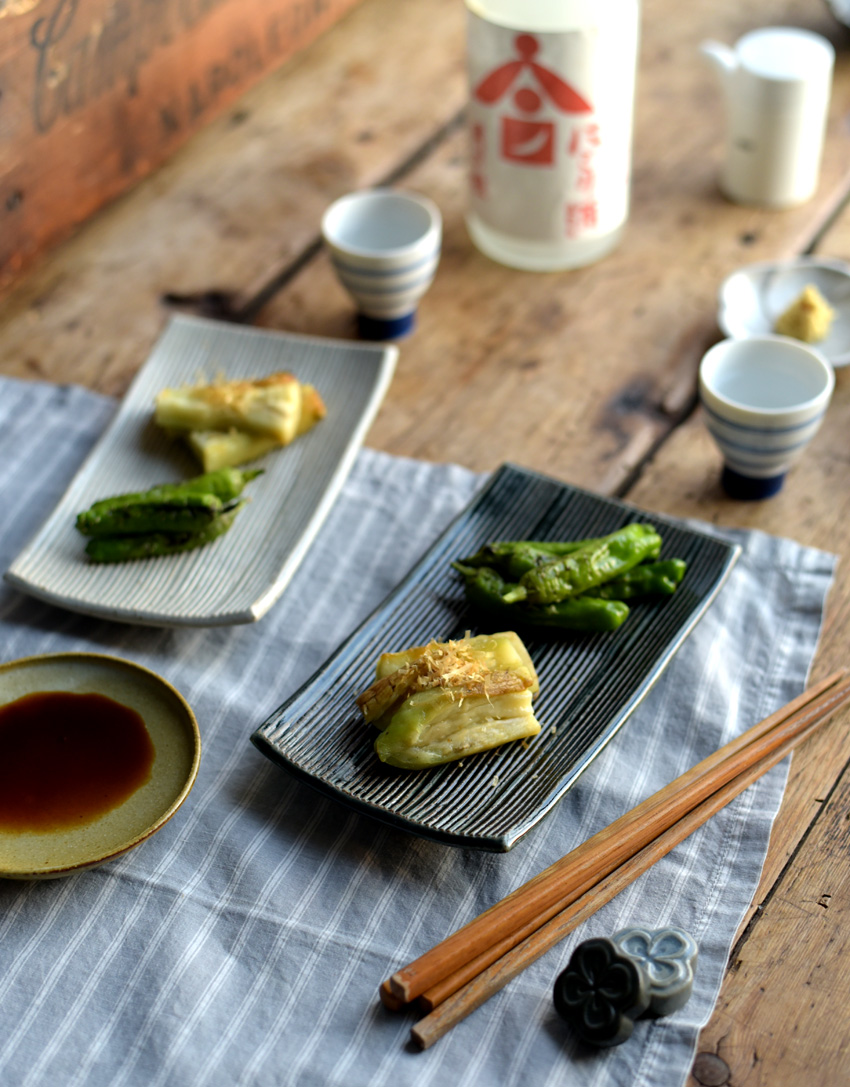 先人の知恵にならって心身を休め新鮮な食材と滋養のある食事でほっこりとした時間を過ごしてはいかかですか。