Please sign in so that we can notify you about a reply
Features
Size
φ228mm/ W228mm/ D228mm/ H33mm/ 750cc/
Material Number
material number7詳細
Material Icon
Color Shade Variations
Each piece has individual color shade variations. Affected by glazes and natural firing conditions such as changes in temperature, humidity and other climate elements and also how to receive the fire in the kiln chamber, each piece has own expression. It is really difficult to make the completed ware exactly same in color by firing and glazing even when the same materials are used. 100 pieces show 100 kinds of expressions, as it were.
Color Irregularities
There are color irregularities of applying a glaze or slip, which are different from part to part in a piece of ware. For example, some parts are glazed thinly or thickly depending on the shape of the ware. That leads to part-to-part subtle differences in appearance of the clay in a piece of ware.
Glaze or Slip Drips
The glaze or slip may look like dripping. There is unevenness of a glaze or slip when they are applied to ware by hand. There also appear glaze drips or slip drips, which are caused by the glaze or slip flows during firing.
Microwave Safe
A microwave oven heats or cooks food very quickly using short electromagnetic waves, namely, microwaves. In most cases, the microwaves heat the water content of the food. However, in some cases, the microwaves concentrate on the carbonized (burnt) parts of the food, causing the temperature to rise higher than the other parts. For example, the microwaves concentrated on the carbonized (burnt) parts of stir-fried vegetables can create a large temperature difference in /on the tableware item, which may cause breakage. In addition to water content, oil content is also heated. The oil has a higher boiling point than the water, so it heats up at a higher temperature, creating a very large temperature difference between the parts that contain oil and the parts that do not, which can cause breakage.
・Never soak hot tableware in water or place it on the cold kitchen counter. Avoid rapidly heating frozen foods or putting [the cold tableware just taken out of the refrigerator] in the microwave. A rapid change in temperature will lead to "crazing" (chaps) or breakage.
※The products with gold or silver paintings, or applied with particular glazes are not microwave safe. We put a "Do Not Microwave" sticker on those items, so please confirm it.
※Accessories etc., made of other materials are excluded from microwave safe items.
Dishwasher Safe
As for the products without the "Not Dishwasher Safe" stickers, please make sure to use them keeping the below matters in mind.
※If tableware items collide each other in the dishwasher, they will get broken.
※Most ceramic items absorb water. Even if the surface looks dry, there may still be some water in the tableware, which may cause your tableware to get moldy or smelly. So, please take it out of the dishwasher immediately after use, and dry thoroughly in a place where it can be exposed to the outside air.
Tags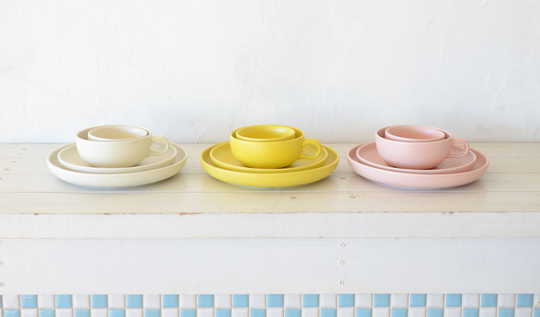 新生活に向けて揃えたい
ぽってりと丸みのあるフォルムとマットな質感の釉薬が大人気のパルード。
新生活にぴったりなアイテム展開をしたい、という想いからはじまったこの企画。
一人暮らしをはじめた頃、自分はどんな料理をつくっていたかなと思い出しながらデザインを進めていきました。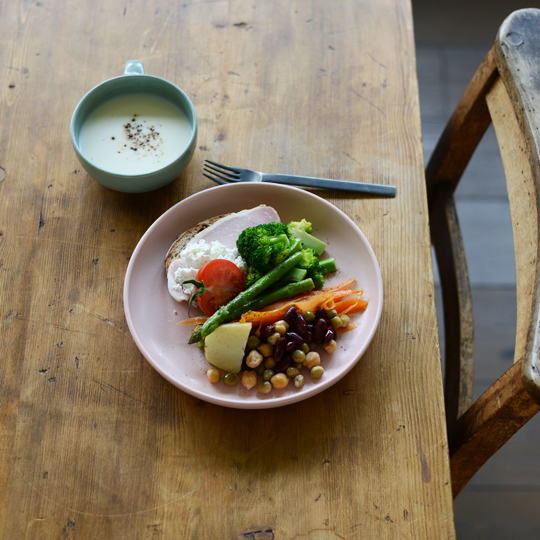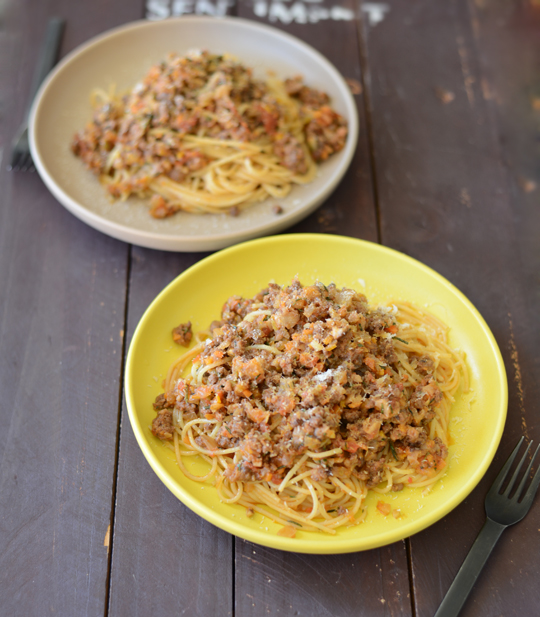 まず1アイテム目は、メインになる料理をのせる230プレート。
カレーやパスタ、ハンバーグなどをつくった時に使いたくなるサイズです。
いろいろなおかずをのせた、ワンプレートの盛りつけもしやすいです。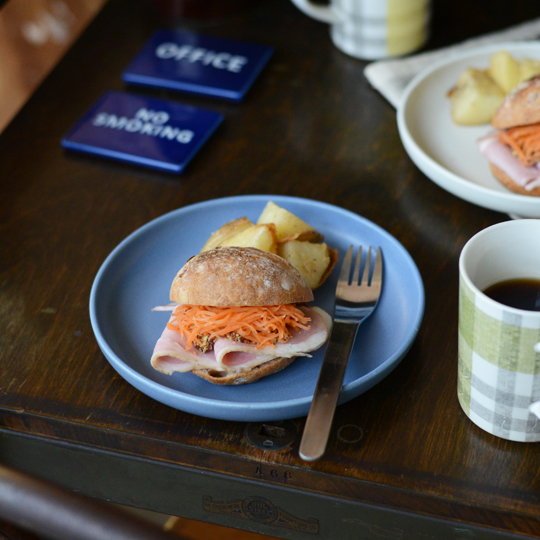 2アイテム目は、トーストや野菜炒め、おやつのケーキにも使える190プレート。
230プレートを小さくした形状です。
好きな色の190プレートを朝ごはんのトースト用の器にしたら、朝から気分があがりそうです。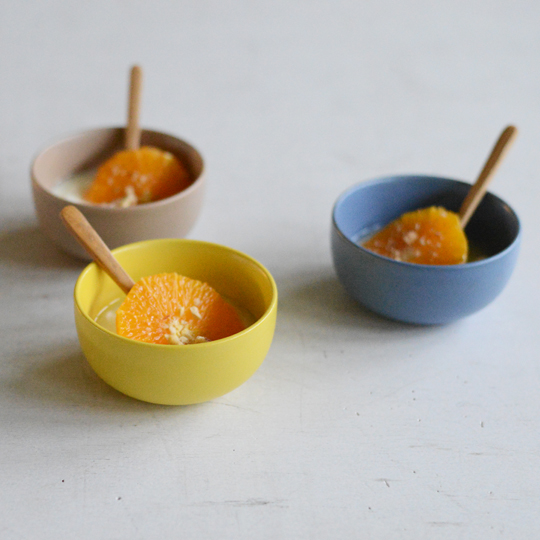 そしてヨーグルトや果物、副菜は95ボールに。
時にはこのボールをプレートにのせてカフェ風のコーディネートにもするのもおすすめです。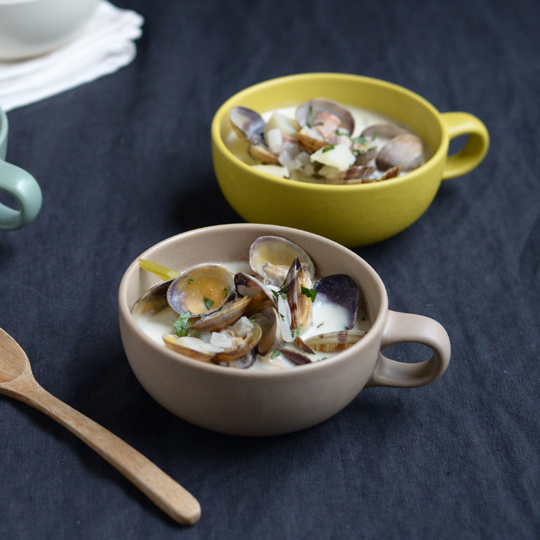 そしてスープやシチュー、シリアルなどは定番のスープカップがぴったり。
鍋料理の時のとんすいとしても使いやすい容量です。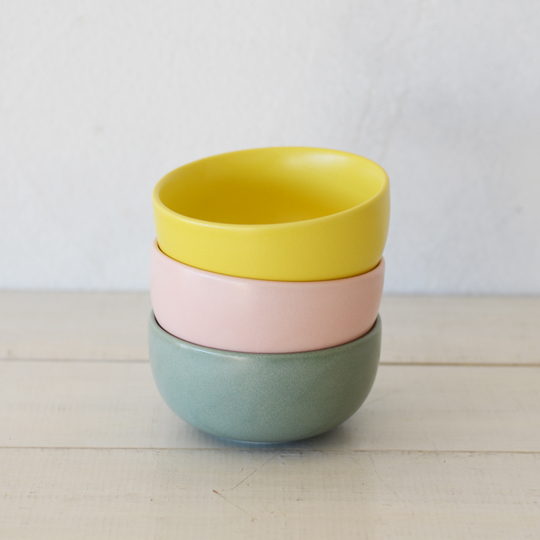 パルードシリーズは下の方にはりがあり、コロンとしているのが特徴。
丸みの具合にはこだわっていて、何度も微調整をしています。
下膨れでなんだかかわいいバランスに仕上がったと思います。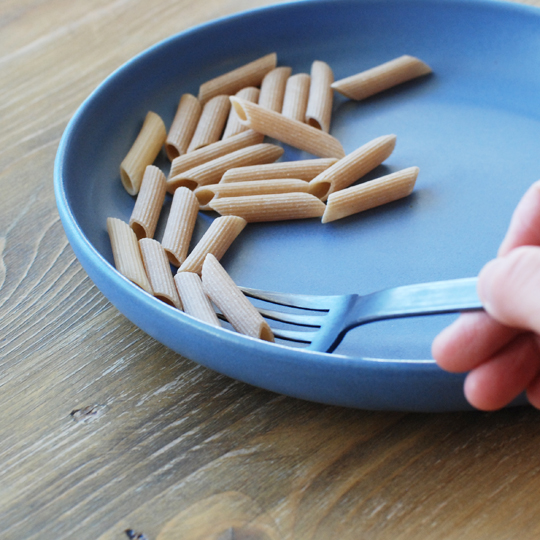 またプレートも縁に丸みをつけて立ち上げています。
立ち上がりのおかげでスプーンやフォークで料理がすくいやすくなっています。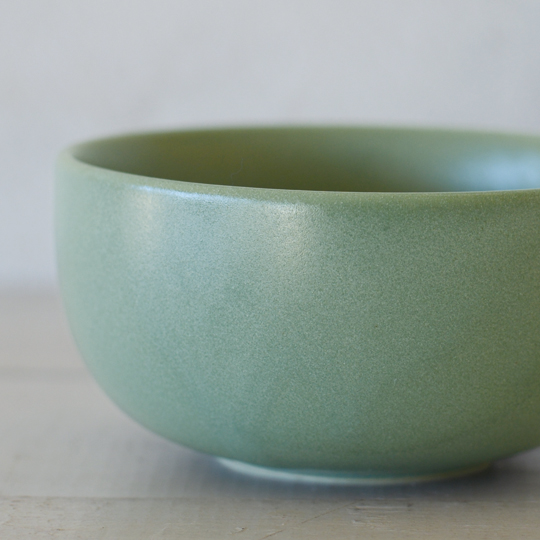 パルードの生地は磁器素材。
吸水性がなくレンジや食洗機にかけられ、気軽に使えるのが魅力的な素材です。
その上にニュアンスのあるマットな釉薬をかけて仕上げています。
釉薬のムラ感や流れが独特な風合いを生み出しています。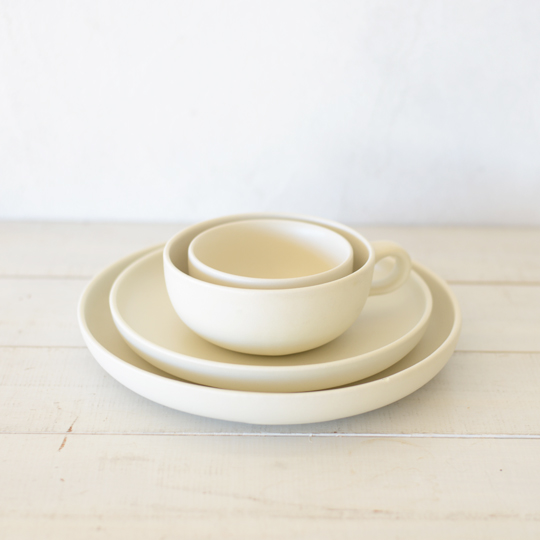 色は、白、レモン、ミント、ベージュ、ピンク、ブルー、の6色展開。
一人暮らし用に好きな色を選んだり、家族それぞれ色を決めて揃えたり、新生活をイメージして器を選ぶ時間もわくわくします。
4アイテムをセットにして新生活をはじめる方へのギフトとしてもおすすめな組み合わせです。
気軽に使える素材と、使いやすいサイズ感。食卓を彩るきれいな色。
新生活にぴったりな器が出来上がりました。
palourde
パルード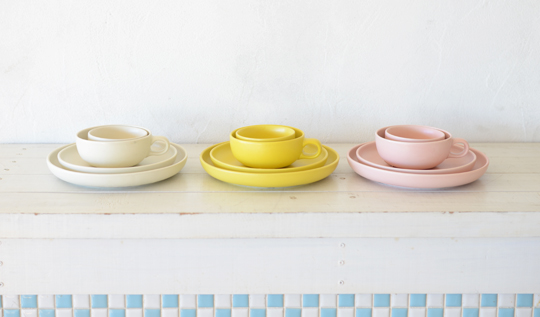 新生活に向けて揃えたい
ぽってりと丸みのあるフォルムとマットな質感の釉薬が大人気のパルード スープカップにアイテムが増えました。
新しく加わるのは新生活をテーマに企画した3形状。
新生活にぴったりなアイテム展開をしたい、という想いからはじまったこの企画。
一人暮らしをはじめた頃、自分はどんな料理をつくっていたかなと思い出しながらデザインを進めていきました。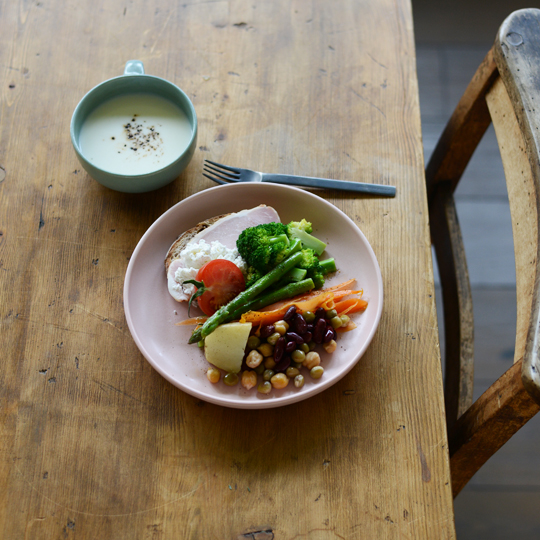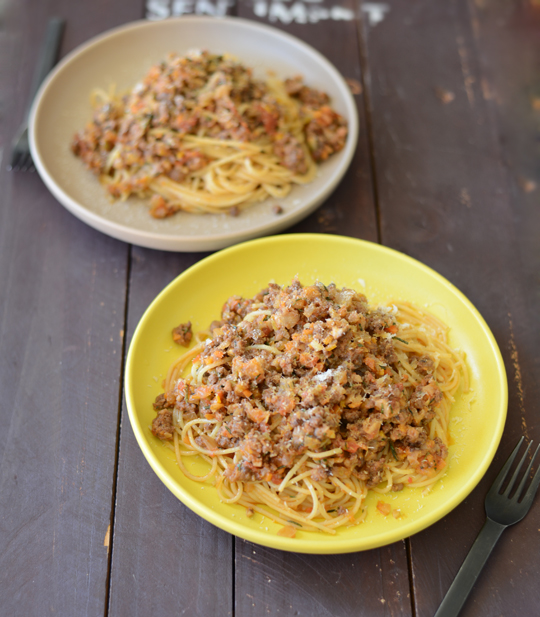 まず1アイテム目は、メインになる料理をのせる230プレート。
カレーやパスタ、ハンバーグなどをつくった時に使いたくなるサイズです。
いろいろなおかずをのせた、ワンプレートの盛りつけもしやすいです。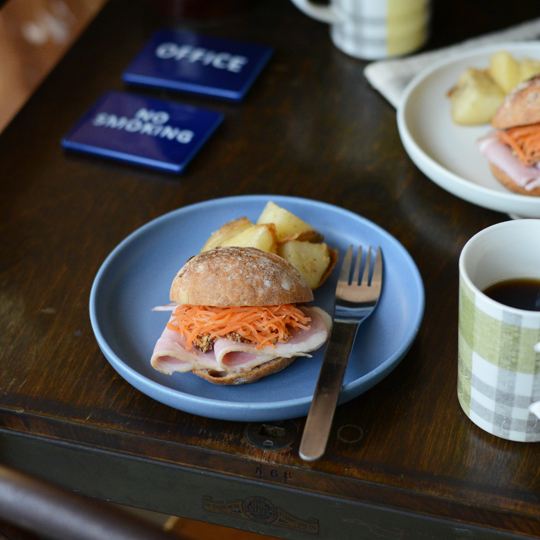 2アイテム目は、トーストや野菜炒め、おやつのケーキにも使える190プレート。
230プレートを小さくした形状です。
好きな色の190プレートを朝ごはんのトースト用の器にしたら、朝から気分があがりそうです。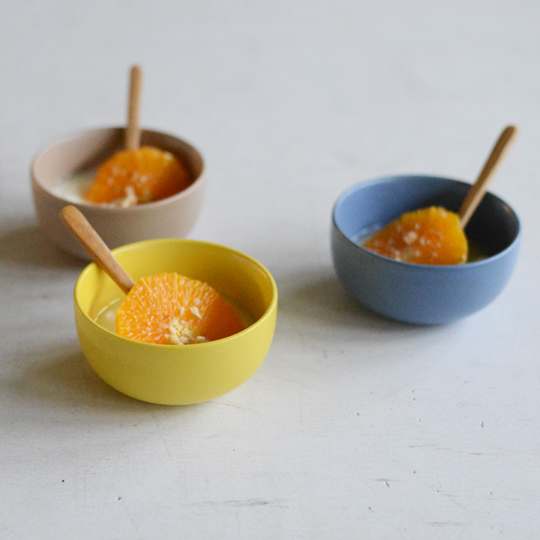 そしてヨーグルトや果物、副菜は95ボールに。
時にはこのボールをプレートにのせてカフェ風のコーディネートにもするのもおすすめです。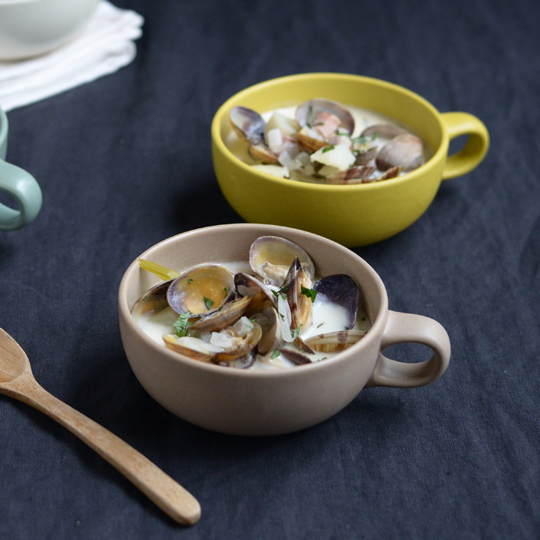 そしてスープやシチュー、シリアルなどは定番のスープカップがぴったり。
鍋料理の時のとんすいとしても使いやすい容量です。
パルードシリーズは下の方にはりがあり、コロンとしているのが特徴。
丸みの具合にはこだわっていて、何度も微調整をしています。
下膨れでなんだかかわいいバランスに仕上がったと思います。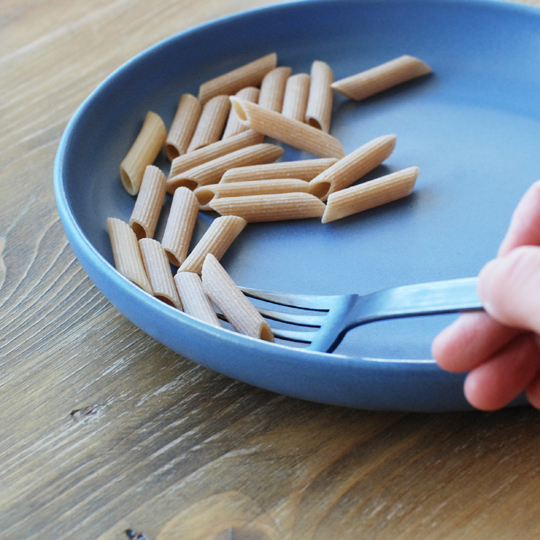 またプレートも縁に丸みをつけて立ち上げています。
立ち上がりのおかげでスプーンやフォークで料理がすくいやすくなっています。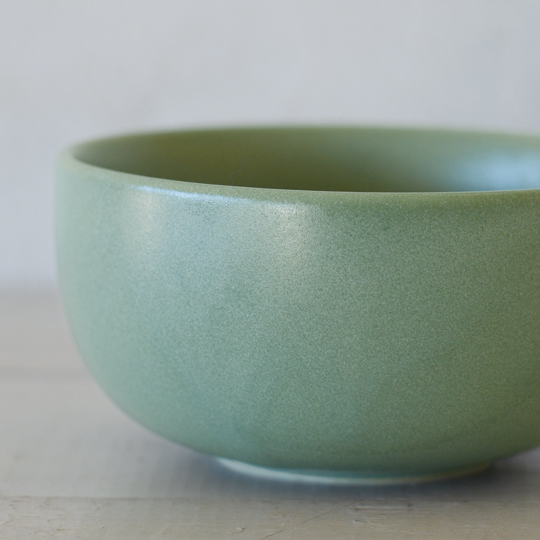 パルードの生地は磁器素材。
吸水性がなくレンジや食洗機にかけられ、気軽に使えるのが魅力的な素材です。
その上にニュアンスのあるマットな釉薬をかけて仕上げています。
釉薬のムラ感や流れが独特な風合いを生み出しています。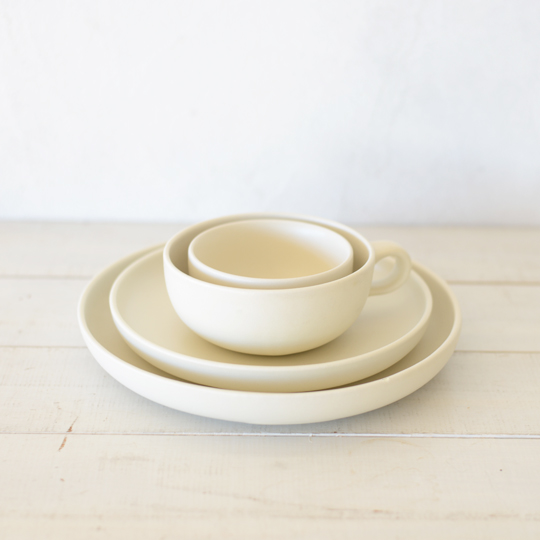 色は、白、レモン、ミント、ベージュ、ピンク、ブルー、の6色展開。
一人暮らし用に好きな色を選んだり、家族それぞれ色を決めて揃えたり、新生活をイメージして器を選ぶ時間もわくわくします。
4アイテムをセットにして新生活をはじめる方へのギフトとしてもおすすめな組み合わせです。
気軽に使える素材と、使いやすいサイズ感。
食卓を彩るきれいな色。
新生活にぴったりな器が出来上がりました。