Please sign in so that we can notify you about a reply
Features
Size
W136mm/ D136mm/ H45mm/ 290cc/
Material Number
material number1詳細
Material Icon
Color Shade Variations
Each piece has individual color shade variations. Affected by glazes and natural firing conditions such as changes in temperature, humidity and other climate elements and also how to receive the fire in the kiln chamber, each piece has own expression. It is really difficult to make the completed ware exactly same in color by firing and glazing even when the same materials are used. 100 pieces show 100 kinds of expressions, as it were.
Color Irregularities
There are color irregularities of applying a glaze or slip, which are different from part to part in a piece of ware. For example, some parts are glazed thinly or thickly depending on the shape of the ware. That leads to part-to-part subtle differences in appearance of the clay in a piece of ware.
Glaze or Slip Drips
The glaze or slip may look like dripping. There is unevenness of a glaze or slip when they are applied to ware by hand. There also appear glaze drips or slip drips, which are caused by the glaze or slip flows during firing.
Pinholes
Pinholes may be seen clearly on the surface. Pottery (earthenware) is mainly made from earth, and green ware contains a lot of air while biscuit firing. While glazed firing, this air inside the biscuit ware becomes air bubbles, which remain and look like small holes on the surface of the glazed part. Those small holes are called pinholes.
Crazing (Chaps)
Crazing (having chaps) may appear clearly on the glazed part. The "direct" crazing means having chaps originally. The "aging" crazing means having chaps over time as you use the tableware item. There is a difference between the shrinkage rate of the glaze and that of the clay, so crazing occurs. Note that those cracks do not come from the damage of tableware items. They might appear just before use, but it is no problem in terms of use. They appear on the surface of pottery (earthenware) and semi-porcelain.
Iron in Powder
Iron in powder may be seen clearly on the surface. Pottery (earthenware) is made from earth, which contains iron. After firing green ware, iron appears on the surface in the form of black dots. Red or black earthen clay contains much more iron, and as a result, not a little iron in powder may appear on the surface of tableware items made from this type of clay.
Microwave Safe
A microwave oven heats or cooks food very quickly using short electromagnetic waves, namely, microwaves. In most cases, the microwaves heat the water content of the food. However, in some cases, the microwaves concentrate on the carbonized (burnt) parts of the food, causing the temperature to rise higher than the other parts. For example, the microwaves concentrated on the carbonized (burnt) parts of stir-fried vegetables can create a large temperature difference in /on the tableware item, which may cause breakage. In addition to water content, oil content is also heated. The oil has a higher boiling point than the water, so it heats up at a higher temperature, creating a very large temperature difference between the parts that contain oil and the parts that do not, which can cause breakage.
・Never soak hot tableware in water or place it on the cold kitchen counter. Avoid rapidly heating frozen foods or putting [the cold tableware just taken out of the refrigerator] in the microwave. A rapid change in temperature will lead to "crazing" (chaps) or breakage.
※The products with gold or silver paintings, or applied with particular glazes are not microwave safe. We put a "Do Not Microwave" sticker on those items, so please confirm it.
※Accessories etc., made of other materials are excluded from microwave safe items.
Tags
少しずつ集めてきたマルミツポテリの器の中で、
わたしが毎日使っているヘビロテアイテムが、オクトゴーヌ4.5寸鉢です。
3年ほど前に購入しましたが、
これの前って何使ってたっけ?って思うくらい、
今やなくてはならない存在になりました。
好きなところ その1「和食にちょうどいいサイズ感」
直径13.6cmに深さ4.5cm。
程よい深さとテーブルでも場所をとらないサイズ感なので、
取り皿に使い易く、ついつい食器棚から毎回のようにオクトゴーヌを選ぶ日が続いています。
上に向かって広がりのあるすり鉢状。
底がせまいので少量を盛りつければ、周りに余白が自然とでき、高さも出るので見た目がよく、
サラダなら上までたっぷりと入るので多用途なところもうれしいポイント。
あと、好んでよく作る野菜の煮びたしにはまさにぴったりな形。
肉じゃが、ポテトサラダ、かぼちゃの煮物など日本人の普段の食事に使い易いんです。
薄手で重なりがいいので、小スペースに家族分まとめて収納できるのもいいところ。
好きなところ その2「目にも美味しい色味」
茶色の料理が多くなりがちな日本人の食卓。
食材を引き立て、かつ彩りを加えてくれる華やかな
"菜の花、錆青磁、白妙"の3色展開です。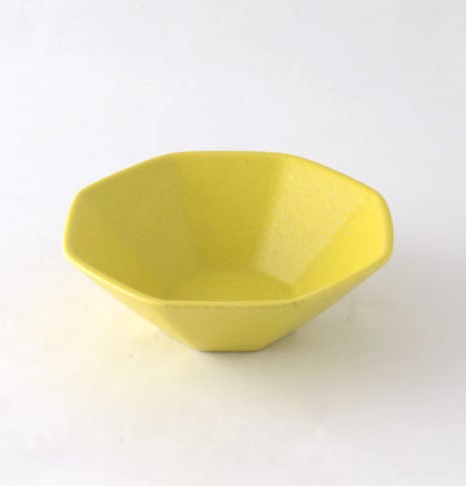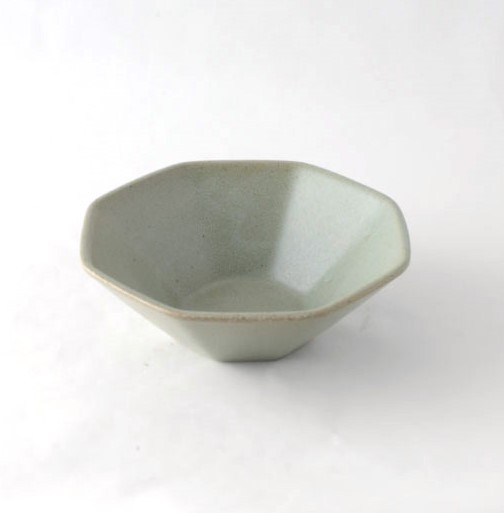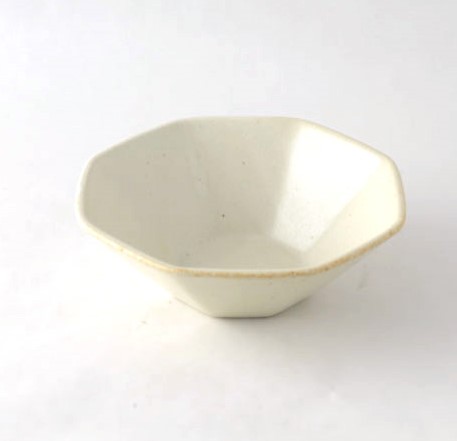 素材は陶器土を使っています。
土に含まれる鉄分などによって土の表情が豊かな生地なので、
できあがった器がただ発色がいいだけでなく、
どこか優しい雰囲気を感じるのは、角の取れた丸みのある形状にプラスして
土と釉薬の組み合わせによっても表現されているんです。
好きなところ その3「いいことづくめの八角形」
オクトゴーヌとはフランス語で"八角形"を意味し、
縁起の良さによって使うことで運気アップ!だけでなく
食卓においても良い仕事をしてくれます。
茶碗や汁椀に小鉢など、どれも丸い形のものが多くなりがちなので、
そんなときに、この八角形を1つ組み合わせてみるだけで、
良いアクセントになるんです。
上から見てみるとこの違い、伝わるでしょうか?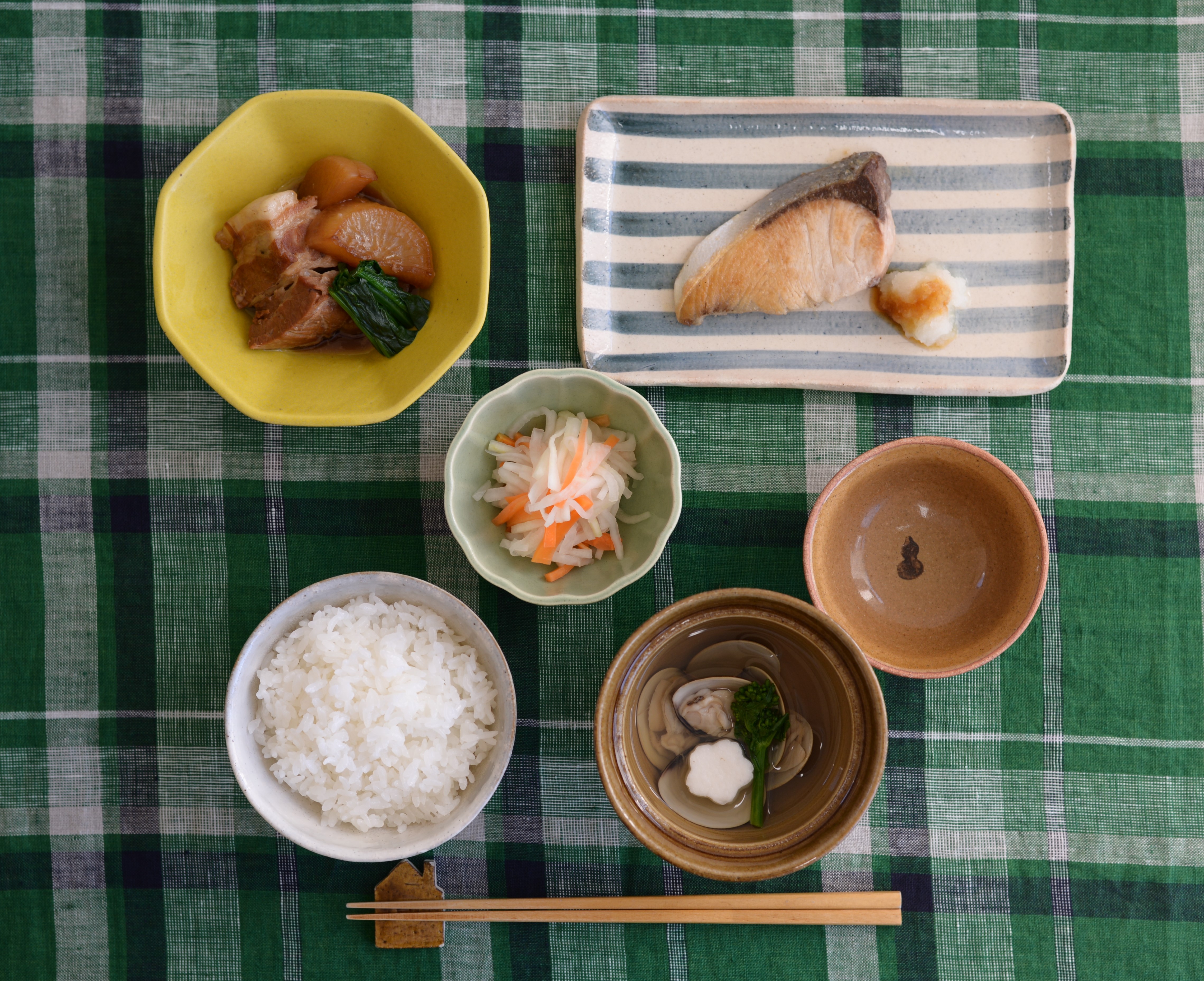 器を買い足したいけど、なにを買っていいか迷う…
なんて和食好きな方には、ぜひぜひおすすめしたい器です。
きっとこの使い易さを気に入ってもらえると思います!