Please sign in so that we can notify you about a reply
Features
Size
φ233mm/ W233mm/ D233mm/ H36mm/ 50cc/
Material Number
material number7details
Material Icon
Strong Color Shade Variations
Each piece has strong individual color shade variations. Affected by glazes and natural firing conditions such as changes in temperature, humidity and other climate elements and also how to receive the fire in the kiln chamber, each piece has own expression. It is really difficult to make the completed ware exactly same in color by firing and glazing even when the same materials are used. 100 pieces show 100 kinds of expressions, as it were.
Strong Color Irregularities
There are strong color irregularities of applying a glaze or slip, which are different from part to part in a piece of ware. For example, some parts are glazed thinly or thickly depending on the shape of the ware. That leads to part-to-part differences in appearance of the clay in a piece of ware.
Pinholes
Pinholes may be seen clearly on the surface. Pottery (earthenware) is mainly made from earth, and green ware contains a lot of air while biscuit firing. While glazed firing, this air inside the biscuit ware becomes air bubbles, which remain and look like small holes on the surface of the glazed part. Those small holes are called pinholes.
Iron in Powder
Iron in powder may be seen clearly on the surface. Pottery (earthenware) is made from earth, which contains iron. After firing green ware, iron appears on the surface in the form of black dots. Red or black earthen clay contains much more iron, and as a result, not a little iron in powder may appear on the surface of tableware items made from this type of clay.
Warping
Warping in shape may be clearly seen. Ceramic ware is made out of clay, so even after formed, green ware is relatively soft and wobbly. Therefore, when it is made dry, it is affected by natural conditions such as temperature and humidity, so each piece may look different in size and shape and perhaps warping in shape may appear.
Material
PORCELAIN /
made in  JAPAN
早春に咲いた梅の花が実を結び、青から黄へ色付きます。
収穫に合わせて始まる梅仕事は初夏だけのお楽しみ。
梅の実が熟す頃の長雨は梅雨とよばれ、草木を育む恵みの雨です。
雨粒に濡れた葉や輝く花々は艶やかで嬉しそうです。
窓に伝わる水滴、水たまりに映る景色、薄暗い雲間から差す透明な光。
日常に潜む美しさに気付けるのも雨の日があるからこその喜びです。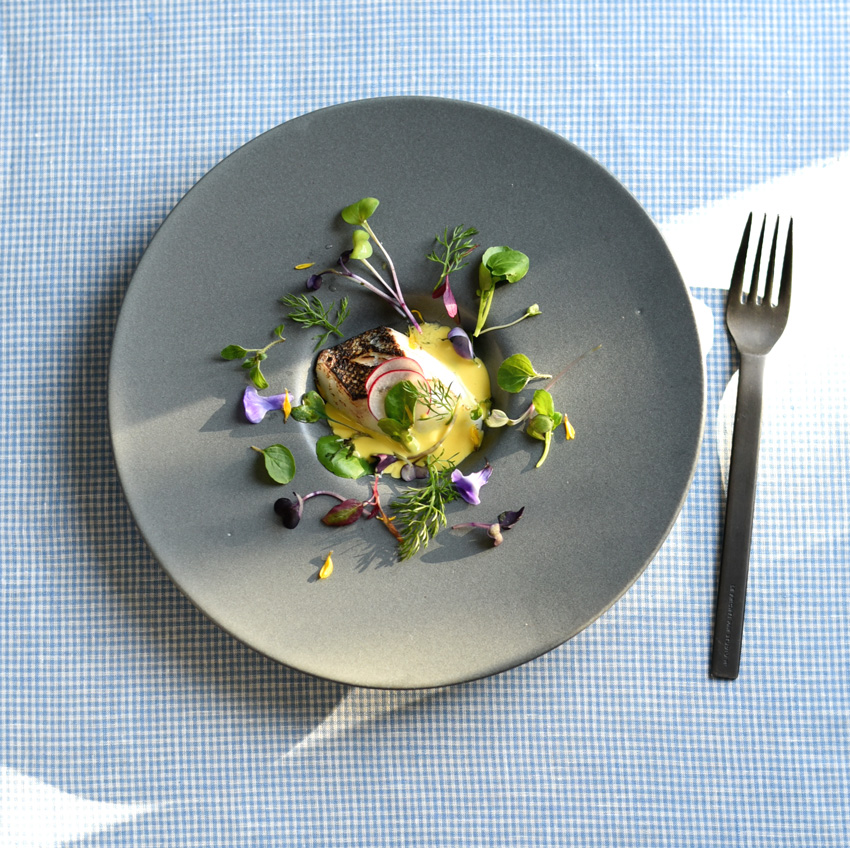 梅の出来上がりを楽しんだり、摘んだ小さな草花を添えたりして、
瑞々しく季節が輝く瞬間を盛り合わせた一皿になりました。

「Tesoro」テゾーロの意味は、イタリア語で"宝物"。
大切な物や人に対して愛情を込めた言葉として使われます。
人と料理が出会い、唯一無二の時間が生まれます。
大切な一皿から刻まれる記憶が心の宝物になるように願いを込めました。
すっきりとした広いリムと柔らかなカーブの小さな窪みがテゾーロの特徴です。
窪みには適度な深さがあり、アイスクリームやソースなどの提案にもお使い頂けます。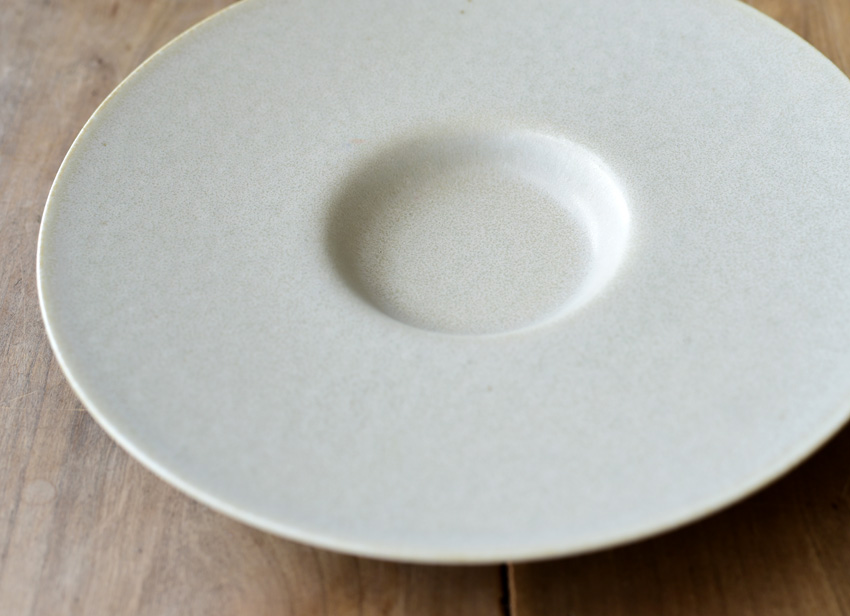 リムを生かして余白を使った盛りつけは物語を感じさせます。
前菜やデザートなど、幅広いメニュー提案の創造性を刺激します。
丈夫な磁器素材に風合いのある釉薬を選び、
印象に残る一皿として料理を彩ります。
形状、釉薬の特性上、個体差があり、ゆがみ、釉薬ムラ、ピンホールが出ます。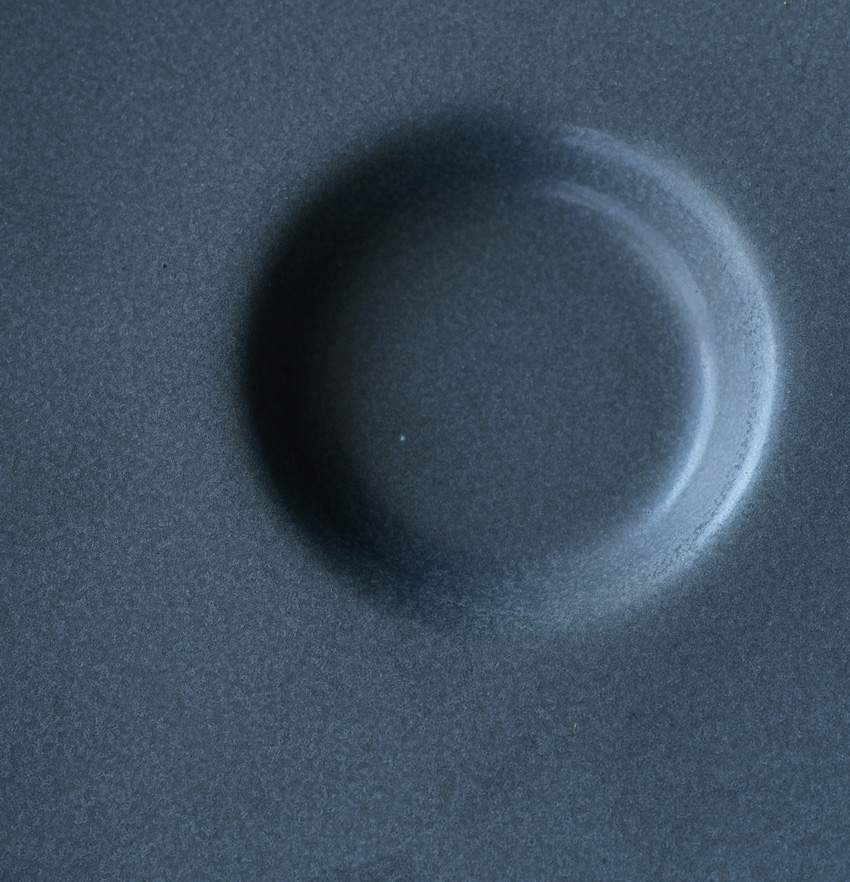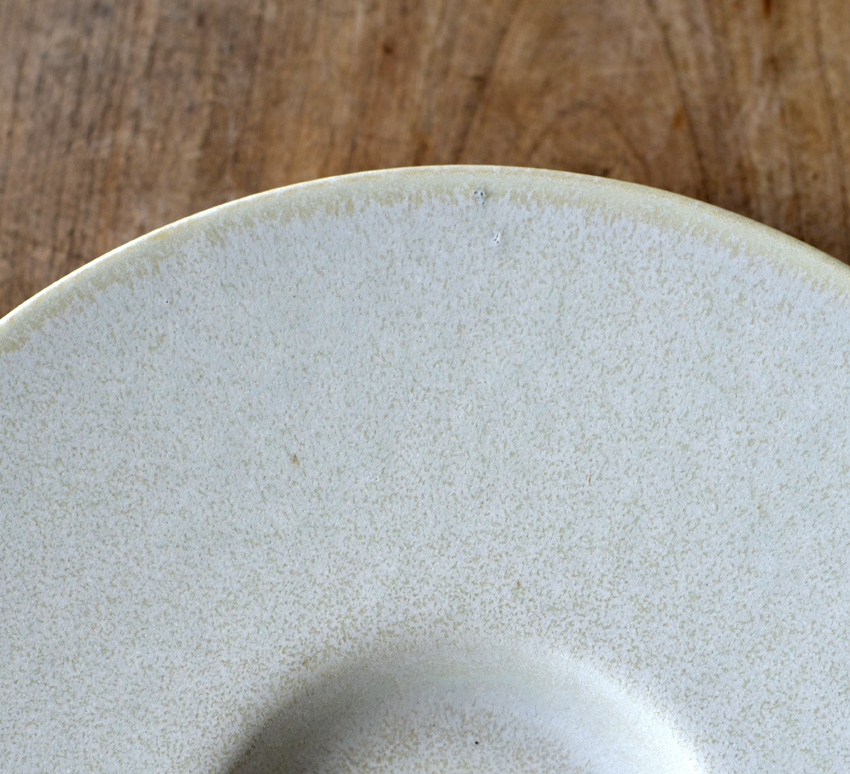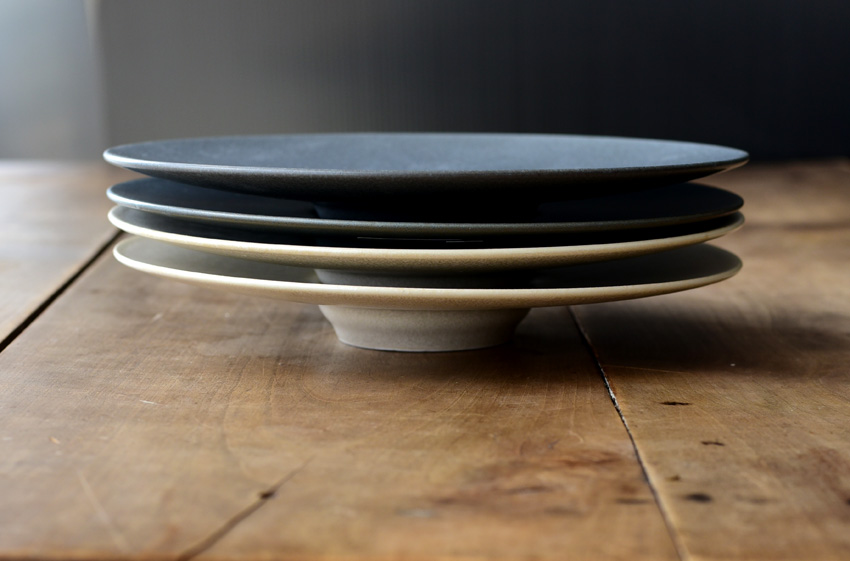 ベースプレートに重ねてフォーマルなシーンにも、単体でカジュアルなシーンにもお使いいただけます。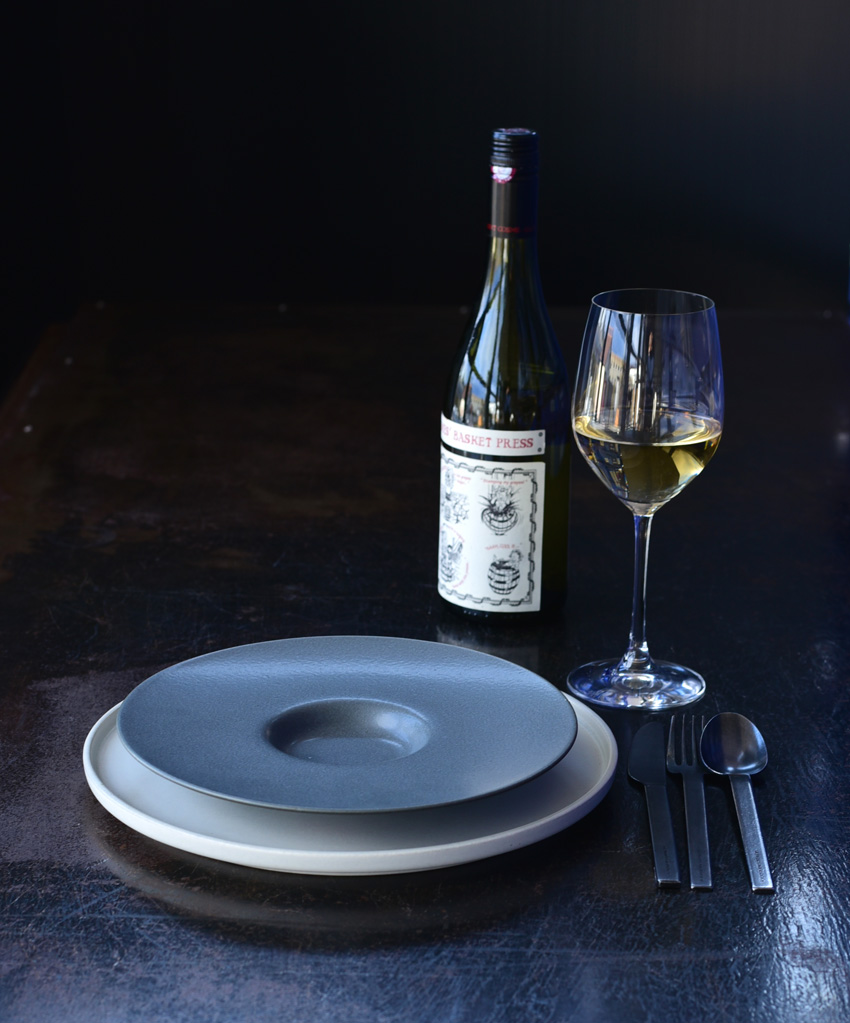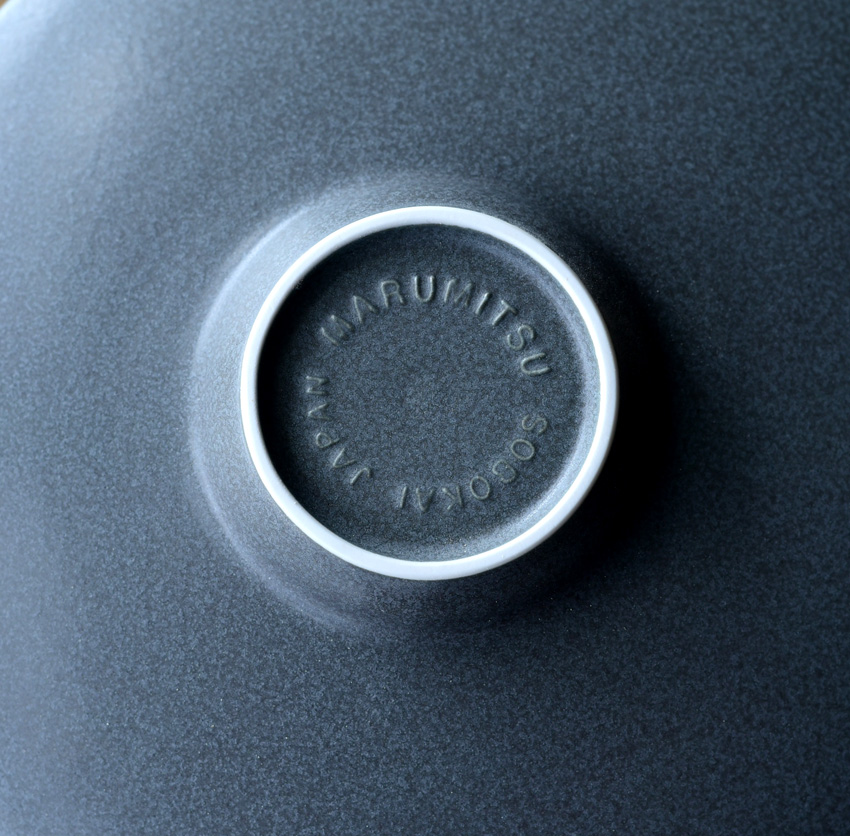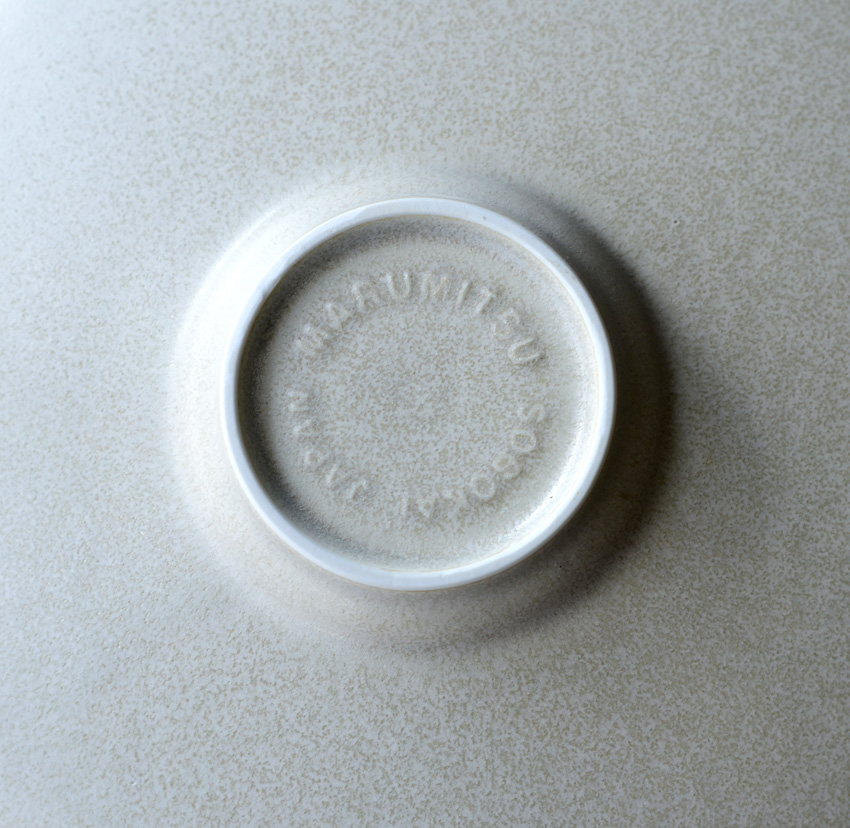 新しい盛り付けや料理にも挑戦したくなるようなプレートです。